Freedom Factory is an all inclusive school programme that enables young people to explore their individuality and creativity, whilst offering support with emotional well being.
Learner stats we are proud of
said they would continue dancing and singing
said they have learnt new skills
understand how they can be safe online
recommend Freedom Factory to their friends
Enjoy the programme music while you find out more!
Delivered over 12 weeks in a weekly 90-minute session with up to 30 children.
Our practitioners introduce children to street dance and hip-hop techniques, helping them to learn routines and construct songs and empowering them to perform along with understanding how to construct their own songs or raps.
We introduce topics, encouraging discussion and sharing, learning from others and inspiration for creative projects.  
Incorporate our wellbeing tools and techniques to help children develop positive coping strategies to manage their wellbeing
Safe social media education: we help children to understand that social media does not define them and enable children to value their self-worth and understand that you don't have to be "Liked" to be liked.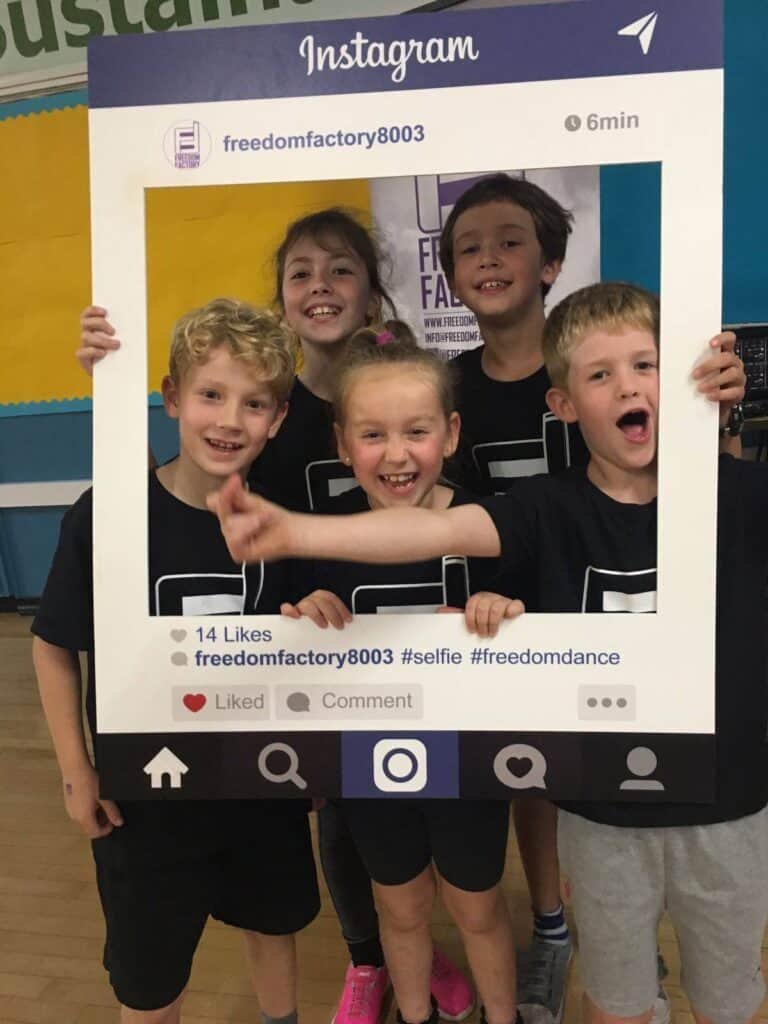 The Freedom Factory programme meets government guidelines for achieving many of the outcomes in different subjects across the curriculum, including Music, P.S.H.E, R.S.E, English and P.E. For full details please contact us. 
Email us at info@freedomfoundationuk.org or call us on 0115 993 2370
We can offer this programme as part of your educational school day or as an after school activity.
What children achieve from our project
Aims and objectives of the programme
Use the arrows to progress along the outcomes for this programme.
P.E
Develop flexibility, strength, technique, control and balance.
P.E
I can share and create phrases with a partner and in small groups.
Music
Play and perform in solo and ensemble contexts, using their voices with increasing accuracy, fluency,control and expression
P.S.H.E
That mental health, just like physical health is part of daily life: the importance of taking care of mental health.
P.S.H.E
Understand the importance of mental health, strategies to support mental health and well being, recognising that feelings can change over time and intensity.
P.S.H.E
Learning about how text/images online/in the media can be manipulated or invented and how to identify misinformation.
What everyone thinks about Freedom Factory Primary
''I like Freedom Factory because it makes me feel free to do whatever I want and I like to do dance a lot but I can't do that at home because there's not that much space to do it''
"I feel that I am more confident and have loved learning how to dance"
''Freedom Factory has helped to express my emotions''
"My knowledge about the understanding of social media has helped me with how much time I'm spending on it."
'Thank you for doing this, it has had a great impact on me' 'Without you I wouldn't be as confident a person I am today' 'you have made me love dancing' 'Danielle and Ellie you guys have made me happy every lesson!'
Performance at Beechdale last night by Bluecoat Primary, thanks to your staff for a fantastic 12 week course, the parents and head teacher were stunned by their work!
''Freedom Factory has helped with my emotions – I liked everything''
''I like the positive affirmations and dancing because it makes us feel good about ourselves''
"The Freedom Factory offers children something unique. It's a safe place for children to express themselves through music, dance and song writing whilst being educated in the ever growing problem of issues surrounding social media. Many children and parents have really valued the Factory and as a school we have welcomed the additional learning."
"Freedom Factory has done just that, and has been a wonderful addition to our extra-curricular clubs. It has given students support in what is a really difficult time for everyone at the moment."
''Freedom Factory is amazing a lot of people should join''
''Freedom Factory is very positive''
''I have been hugely impressed with both the content of the programme and it's delivery, Facilitators highly skilled, patient, clear instructions. The children have thoroughly enjoyed the experience and it has been very gratifying to see pupils who were unsure and disengaged grow in confidence and engage fully/to the extent that they feel comfortable''
More great programmes we have to offer!
Dril
'Demonstrating Resilience and Inspiring Lives' gives young people access to a programme encouraging them to explore how DRILL and Grime music influences mindset and beliefs.
HAF
Freedom Foundation is proud to be part of the HAF (Holiday Activity Food) programme delivering across the East Midlands.  
Motivational Mornings
Motivational Mornings are designed to motivate learners at the beginning of their educational day, allowing them to release emotional anxieties in a safe environment.
Freedom Factory Primary
Freedom Factory is an all inclusive school programme that enables learners to explore their individuality and creativity, whilst offering support with emotional well being.